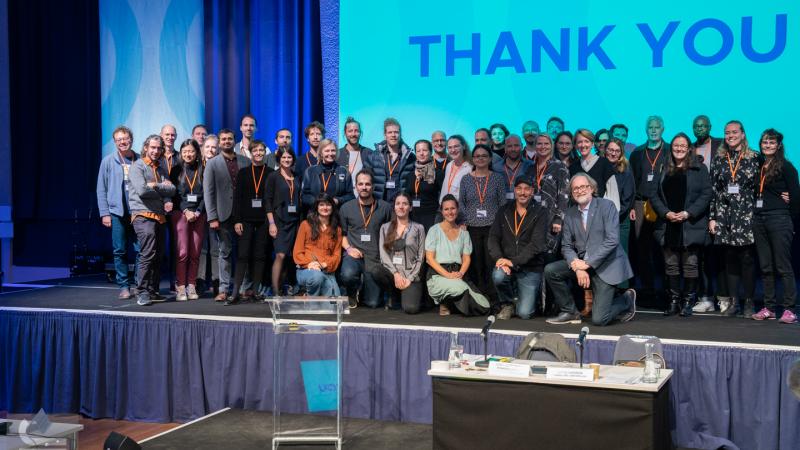 The LND are the highlight of the Documentary Campus event calendar. The programme includes this year's exciting projects developed at the Masterschool and Campus Latino as well as selected Documentary Campus Creative Council projects. As a delegate, you have a unique chance to win a surprise pitch and present your own project in front of distinguished international buyers. At the end of the day, the best project presentations will be awarded with a Best Pitch by our partners CPH:DOX, Dok.fest Munich, DAE and Terra Mater Factual Studios. We will round off the pitch marathon day with drinks & brezels.
Programme
Saturday, 10:10 - 10:15
Official Opening: Welcome & Introduction
Donata von Perfall, Director, Documentary Campus
Laurane Bertrand, Coordinator for Greening in the Creative Europe MEDIA Programme
Dr. Ulrich Brochhagen, Head of Department of History and Documentaries, MDR
Dr. Patrick Hörl, Head of Board, Documentary Campus
Saturday, 10:15 - 11:30
Pitch Block 1
Saturday, 11:30 - 12:00
Coffee Break
Saturday, 12:00 - 13:00
Pitch Block 2
Saturday, 13:00 - 15:00
Lunch Break
Saturday, 15:00 - 16:00
Pitch Block 3
Angels Streets by Silvia Rey, Iban de Campo
The New Sun by Sirio Magnabosco, Nadja Smith
Age of Conspiracy by Mathias von der Heide, Maren Boje (Creative Council Project)
The Man Who Said NO to Hitler by Ralf Kukula, Sabine Kraft, Nancy Brandt
Saturday, 16:00 - 16:30
Coffee Break
Saturday, 16:30 - 18:00
Pitch Block 4
Sunday, 9:30 - 12:30
Individual Meetings for Pitch Teams and Decision Makers
Sunday, 9:30 - 11:15 & 11:45 - 12:30
Networking Roundtable "Storytelling"
Present your story to the round of delegates and story consultant Nic Guttridge (UK) to receive valuable feedback and fresh input.
Sunday, 9:30 - 11:15 & 11:45 - 12:30
Networking Roundtable "Legal"
Join Lisbeth Matz-Lyons (DK) for feedback and advise on legal questions for your next production.
Sunday, 9:30 - 11:15 & 11:45 - 12:30
Networking Roundtable "Impact"
Maximize the impact of your film by sharing your ideas in this roundtable and receiving input by Masterschool alumnus Valentin Thurn, who has established himself as one of Germany`s top producers focussing on environmental and sustainable stories.
Sunday, 12:30 - 14:00
Lunch Break
Sunday, 14:00 - 16:00
Individual Meetings for Pitch Teams and Decision Makers
Locations
Westbad Leipzig
Odermannstraße 15
04177 Leipzig, Germany
We have chosen a new venue, a historical former public swimming pool designed and built in the tradition of the Bauhaus architecture of the 1920s: the Westbad. Today it is equipped with a professional ventilation system offering enough space to host us – all corona safety measures taken into account. We will ensure the protection of our guests and team through a professional safety and hygiene concept that we successfully implemented last year.
Click here to be taken to the venue's website
How to get there
By plane: Lots of international airlines offer direct flights to Leipzig/Halle (LEJ) Airport, which is 22 kilometres northwest of central Leipzig. Trains run frequently between the airport and the city and the journey takes 14 minutes. A convenient alternative is flying into Berlin (TXL or SXF) and catching the train to Leipzig. Trains depart every hour from Berlin Hauptbahnhof and take 60 minutes to reach Leipzig. See below for further details.
By car: Leipzig can easily be reached by car as it is very well connected to the Autobahn. The nearest Autobahn are the A14 (North, Northeast), A9 (West) and A38 (South).
By train: Deutsche Bahn: operates regular train service between Leipzig and nearby cities.
Get around in Leipzig: Find the best connections from the station to your hotel using public transport. You can search for connections at: www.lvb.de.
If you'd prefer to go by taxi, simply call: +49-341-4884
Security & Safety
Please note: With Covid-19 numbers on the rise again, we decided to implement the 2G+ RULE for the Leipzig Networking Days, meaning you can attend the event if you are fully vaccinated or recovered, or have a negative PCR Test dated 22 October. This is subject to change depending on the current Covid situation closer to the event.
How can I prove I am fully vaccinated?
If you have been vaccinated against COVID-19, you can prove your status of full vaccination by presenting your yellow vaccination booklet, or your digital vaccination certificate, which you can display on your smartphone to our staff before entering the venue. If you haven't yet received your digital certificate, speak to your doctor or a pharmacy before coming to Leipzig.
How can I prove I have recovered from COVID-19?
If you've recovered from coronavirus, you can present your positive test result as proof. The test result is valid from 11 to 180 days after you tested positive. You can also download your positive test result onto either the Corona-Warn-App or the CovPass app to receive a digital certificate.
2G+ / Negative PCR Test
If you are neither vaccinated nor recovered, you will need to present a negative PCR test result dating Friday, 22 October. Negative rapid antigen tests will not be accepted. This is subject to change depending on the Covid situation closer to the event.
Fees
EUR 160.00 EARLY BIRD FEE available till 8 October
EUR 190.00 Regular Fee
EUR 100.00 Alumni Fee/ Student
EUR 100.00 Eastern Europe Fee
EUR 160.00 Delegation Fee
The Special Delegation fee applies for delegates from our partners. If you are part of any of the listed organisations, please contact them to get your discount code:
Allianz Deutscher Produzenten
AG DOK
ESoDoc
Mitteldeutsche Medienförderung
Documentary Association of Europe
Filmakademie Baden-Württemberg
Filmverband Sachsen
The registration fee includes the following:
Access to the Leipzig Networking Days (23 & 24 October)
Coffee & Lunch Breaks Saturday & Sunday
Networking Drinks Saturday Evening
Registration closes 14 October 2021.