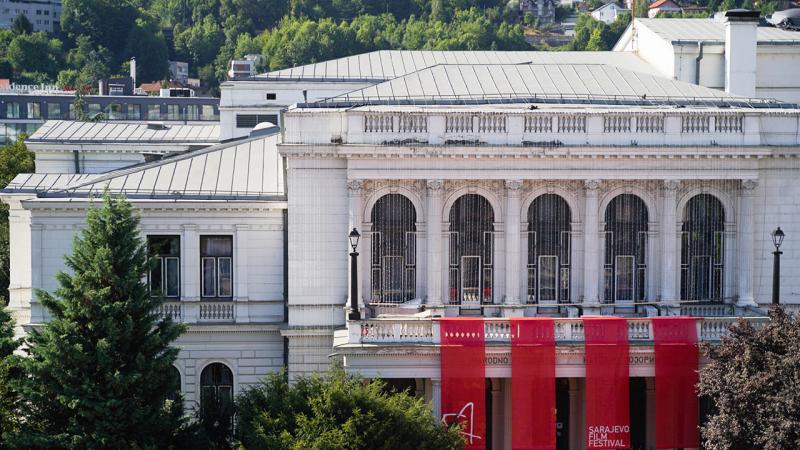 We continued our excellent partnership with Sarajevo Film Festival to present 5 virtual industry talks in the frame of the CineLink Talks – the festival's industry platform. The CineLink Talks (14 - 19 August 2021) offered a rich programme of 10 masterclasses, debates and panel discussions dealing with key issues the film industry faces. View the talks in full below, or on our YouTube channel.
15 August 2021, 1500 CEST
A panel of internationally recognised producers discuss what they've learned from making films during the pandemic, and if there have been any positive outcomes from the process.
Moderator: Paula Vaccaro (Producer, Pinball London, UK)
Speakers: Ada Solomon (Producer, Hi Film Productions and Micro Film, Romania), Elizabeth Karlsen (Producer, Number 9 Films, UK),
Adis Đapo (Producer, SCCA/pro.ba, Bosnia and Herzegovina)
Sunday, 15 August, 6-7 pm (CEST)
Is there a way to make sure there is sustainabilty for the indie sector in the streamers' model? With less IP retained and uncertainty on the chance to create libraries and rights' exploitation as well as project ownership, Independent producers and funders discuss fair practices points on the ecosystem between streamers and content creators.
Moderator: Alexandra Lebret (European Producers Club)
Speakers: Chris Marcich (CEO of the Croatian Audiovisual Center, Croatia), Lars Loge (Norwegian Film Institute, Norway), Martichka Bozhilova (Producer, AgitProp, Bulgaria), Pauline Durand-Vialle (CEO, FERA Federation of European Screen Directors, Belgium)
Monday, 16 August, 6-7 pm (CEST)
With Covid accelerating even more the transition from cinema to platforms and with more day and date releases in the horizon, what does an alternative distribution model look like? This blue sky session will provide ideas, prompts and new questions continuing a conversation started in 2020 in the Cinelink Talks.
Moderator: Paula Vaccaro (Producer/Scriptwriter, Pinnball London, UK)
Speakers: Amy Hobby (Producer, Tangerine Entertainment, USA), Andy Caley (Distributor, Bohemia Media, UK), Ester Bernal (Head of Distribution, Piano Distribucion, Mexico), Ryan Harrington (Head of Film, Kinema, USA)
Tuesday, 17 August, 6-7 pm (CEST)
What does our industry need to do to make sure we stay sane and in some cases not to re-traumatise people? Filmmakers and two qualified therapists working in film discuss strategies and suggestions for a healthier industry where less people are harmed and more are integrated.
Moderator: Paula Vaccaro (Producer/Scriptwriter, Pinnball London, UK)
Speakers: Malikkah Rollins (Co-Founder, Documentality and Director of Industry and Education, DOC NYC, USA), Pamela Drameh (Independent Producer, UK), Rebecca Day (Psychotherapist & Documentary Producer, Film In Mind, UK), Victoria Thomas (Writer/Director, Republic Of Story, UK)
Wednesday, 18 August, 6-7 pm (CEST)
Mainly white, and still mainly male film critics are part of a highly concentrated power when it comes to trade reviews and market success. If transaprency and diversity at film festivals is not enough to open up the door, is it time we ask ourselves: are film critics even needed?
Moderator: Paula Vaccaro (Producer/Scriptwriter, Pinnball London, UK)
Speakers: Aashna Thakkar(Film Festival Programmer and Interdisciplinary Artist, Regent Park Film Festival, Canada), Dina Iordanova (Professor of Global Cinema, DinaView and Emeritus Professor at the University of St Andrews, UK/Bulgaria), Heleen Gerritsen (Head of Festival, goEast - Festival of Central and Eastern European Film, Germany), Pedro Tinen (Film Critic, German Chancellor Fellow, Alexander von Humboldt Foundation, Brazil), Uzma Hasan (Producer, Little House Productions, UK)
Want more? Rewatch the 2020 talks curated and moderated by Paula Alvarez Vaccaro.