It`s A Match! Connecting Formats to Audiences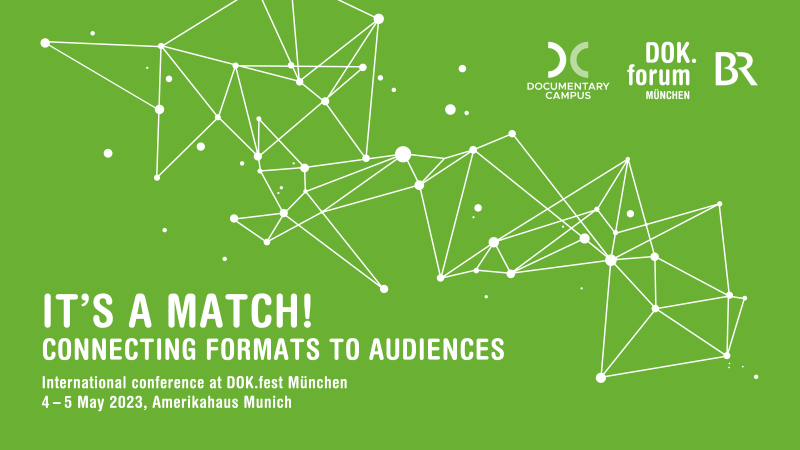 What does it take to create a documentary the audience wants to see? How to make sure that out of the huge amount of offers available, a documentary film will be picked?
From 4-5 May 2023, our international conference in partnership with DOK.forum München and Bayerischer Rundfunk at DOK.fest München will focus on Audience Behaviour and question how to attract - or say even "seduce" - the audience and to promote your documentary. We will analyse facts and figures in a session of strategic reflection, followed by an interactive working format to put knowledge into practice and create practical approaches for broadcasters and programmers.
We will also explore fresh perspectives through the lens of new technologies serving the broadcasting industries, discuss how to make the most of libraries, their relevance for the broadcasters as well as for emerging filmmakers, dissect monetization strategies for creators, and debate how to handle distribution and exploitation rights best in an ever changing media landscape.
Please note the programme is being reguarly updated!
Curated and moderated by AC Coppens and The Catalysts.
PLEASE REGISTER here.
Programme
DAY 1 - THURSDAY, MAY 4th
09.30-10.00 - Opening remarks / Introduction
Donata von Perfall, Managing Director Documentary Campus
Adele Kohout, Deputy Director, DOK.fest Munich
Thomas Hinrichs, Info-Director BR, Coordinator Documentary Department ARD
10.00-10.30
Opening keynote on TV of the Future.
Where are we headed? Introduction to an overview of the industry at large.
11.15-12.00
The tech that will help you seduce your audience - a series of short case studies
A session to tackle all relevant media to look into new technologies and new perspectives with metadata, AI tools and more. A series of short presentations/case studies.
Speakers: Fiona Gillies, My SMASH Media; Sami Arpa, Largo; Niels Alberg, Publikum
12.00-12.30
What is going on in the Labs? adaptive media, AI, young audiences / greening the field
What can public broadcasters do to make sure they best all types of audience? How can tech help to reach out audiences for non-fiction content?
14.00-14.30
Keynote: Minorities as global majorities
A keynote addressing both the need to be seen on screen, and the need to be also part of the industry/gatekeepers
14.30-17.00
Interactive format: Diversity beyond business: Meaningful Diversity and Inclusion to Reach (New) Audiences
Bringing more diversity into the industry is key to finding new audiences, and can be supportive of a business model. At the same time, how to make sure those voices, and people that stand behind them are really included in a meaningful way?
DAY 2 - FRIDAY, MAY 5th
Is daring creativity in the way to a great audience success?
Documentaries are changing the world and having great impact, sometimes also because of well deserved awards. Indeed, it has been an exceptional year where Cyrielle Raingou's Le spectre de Boko Haram winning at Rotterdam, Sur l'Adamant winning Berlinale, Laura Poitras' All the Beauty and the Bloodshed winning Venice last year… showing a shift on how documentaries became an integral part of the film industry. But is an award a guarantee for making it to the theaters, not even talking about becoming a commercial success in the cinemas? What about the edgy off-track essay films by unique voices, or daring storytellers? And what is a creative documentary anyway?
11.00-13.00
Interactive session: how to achieve practical solutions to boost documentaries on screens?
Interactive working format (Wise Crowds format TBC) to create practical solutions. With case studies from success stories, also outside of Europe as prompts. Success stories to inspire the audiences in the first step followed by group work. Group work with producers, creators and other stakeholders of the, allowing to put heads together from different perspectives.
14.30-15.30
All over the Channels - how to make your Doc be seen tomorrow?
How to make sure that out of the huge amount of offers available, a documentary film will be placed, and which distribution/broadcasting channels will take them on? Representative of mediatheques, AVOD and/or FAST Channels, and digital distributors will gather in a panel after short ignite presentations.
15.45-16.45
The future of monetization for creators, accessibility and rights
An ASK ME ANYTHING session about monetization. With new ways to consume those contents: from tiktok to youtube, a whole new ecosystem is blooming. A session focussing on these new models. How does this creators economy work with fans on audience building and monetization?
16.45-17.00
Closing remarks
Closing remarks by Curator AC Coppens