It`s A Match! Connecting Formats to Audiences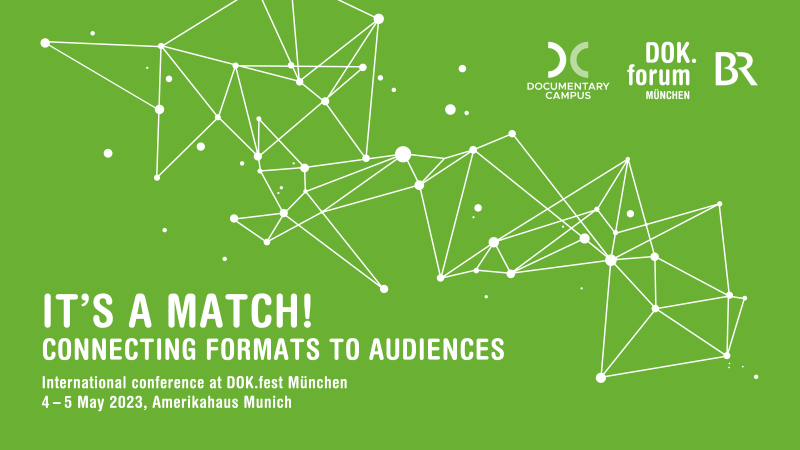 What does it take to create a documentary the audience wants to see? How to make sure that out of the huge amount of offers available, a documentary film will be picked?
From 4-5 May 2023, our international training conference presented in partnership with DOK.forum München and in cooperation with Bayerischer Rundfunk  will focus on Audience Behaviour and question how to attract - or say even "seduce" - the audience and to promote your documentary. We will analyse facts and figures in a session of strategic reflection, followed by an interactive working format to put knowledge into practice and create practical approaches for broadcasters and programmers.
We will also explore fresh perspectives through the lens of new technologies serving the broadcasting industries, discuss how to make the most of libraries, their relevance for the broadcasters as well as for emerging filmmakers, dissect monetization strategies for creators, and debate how to handle distribution and exploitation rights best in an ever changing media landscape.
Please note the programme is being reguarly updated!
Curated and moderated by AC Coppens and The Catalysts.
PLEASE REGISTER here.
Programme
DAY 1 - THURSDAY, MAY 4th . 09.00-09.15
Welcome and Opening Remarks
Donata von Perfall, Managing Director Documentary Campus
Minister of State Dr. Florian Herrmann
Thomas Hinrichs, Info-Director BR, Coordinator Documentary Department ARD
Sina Weber, Co-Head, DOK.forum Marketplace and Susana Fernandez, Head of Perspectives
Curator`s statement: AC Coppens, The Cataylsts
09.15-09.45
Envisioning the Future
Where are we headed? Opening keynote.
Speaker: Peder Haugfos, Media City Bergen AS / NCE Media
09.45-10.15
Audience trends for strategic reflection
How is the audience changing? With challenges like audience retention and building new audiences, which key facts can help us better strategize on what it takes to create documentaries the audience wants to see? In this session, we will go beyond facts and figures based in audiences research with the Launch of the Equinox Report.
Speaker: Sarah Calderon, The Film Agency
10.15-11.00
What's going on in the Labs? Adaptive media, AI, young audiences, greening the field.
In this inspirational fireside chat, we look at the current developments in some of the most advanced Broadcaster's Labs. How can tech help with content production for specific audiences, and how does it transform the media ecosystem of the future?
Speakers: Uli Köppen (BR), Christian Radler (Tagesschau)
11.30-12.15
The tech that will help you seduce your audience
A series of 4 short case studies and short presentations from industry experts for a thought-provoking exploration of cutting-edge technologies.
Speakers: Niels Alberg (Publikum), Sami Arpa (Largo.ai), Fiona Gillies (My Smash Media), Cæcilie Bach Kjærulf (MediaCatch)
14.00-14.30
Keynote: Stories of the Gorgeous Unknown
In this unique and poetic talk, Nusrat Durrani makes a compelling case for addressing the crisis of imagination in the Western film industry by tapping into talent and stories from unseen places and creating a new global mythology and a richer, more inclusive narrative of our time.
Speaker: Nusrat Durrani
14.30-17.00
Beyond Business: Meaningful Diversity and Inclusion to Reach (New) Audiences
Interactive format: As documentaries gain popularity, diverse content is crucial to reaching new audiences, and ensuring meaningful inclusion on and off-screen is essential amidst the current climate of performative inclusion. This informal, guided discussion format will bring together creatives, producers, and distributors to discuss challenges and solutions for achieving meaningful inclusion from their respective perspectives.
Group leaders: Marion Schmidt (DAE), Willy Rolle (TAVMA), Mandisa Zitha (Encounters)
DAY 2 - FRIDAY, MAY 5th 9.00-10.00
Is daring creativity in the way to a great audience success?
A constant struggle in film: commercial viability vs artistic integrity. Documentaries seem to be winning more awards recently, but does this actually guarantee success or increase their impact? How can we support emerging filmmakers and diverse voices in telling creative stories that push boundaries? And what is a creative documentary anyway?
Panellists: Paul Rieth (audience strategist), Anna Hints (filmmaker), Mohamed Saïd Ouma (filmmaker and festival director)
10.00-11.00
All over the Channels - how to make your doc be seen tomorrow?
Ignite presentations and panel: Experts in mediatheques, AVOD / FAST channels and digital distribution share insights on how documentary filmmakers can navigate the crowded marketplace, find and boost the right distribution for their films: channels and platforms currently prioritizing documentaries, the pivot to branded content and narrative features, and all the latest in distribution.
Panellists: Pola Nathusius (ARD, BR), Lara Sword (Little Dot Studios), Antoine Schmidt-Roy (NIKITA VENTURES)
11.30-12.30
Ask Me Anything About Money!
This session is your chance to ask experts questions about the future of the creator's economy: from the first European movie ever funded by NFTs through blockchain up to innovative social platforms, we will discover how the industry finds fresh ways to monetize.
Panellists: Jan Spielhoff (Filmchain), Giorgia Aubrey (Kyra TV), Miguel Faus (filmmaker)
12.30-12.45
Closing and Wrap-up
Wrap-up of conference themes by AC Coppens