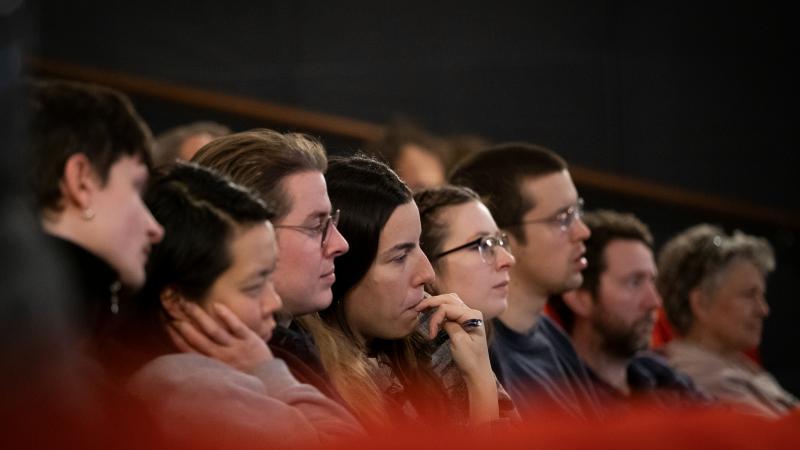 Since we last gathered as a community, the world has been adrift on a storm-tide of troubles. From the war in Ukraine to the grim legacy of the pandemic and to the return of inflation, the much awaited transition to a better, slower, more equal and sustainable film industry seems to be on hold. Yet again, the way that documentaries are being made, financed, and distributed needs urgent rethinking. Instead of being overwhelmed by the uncertainties, let's establish that our future is yet to be collectively discovered - and created - by the documentary community itself.
CPH:CONFERENCE 2023 returns as the unique platform uniting bright and determined filmmakers, producers, and gatekeepers of the non-fiction world to collectively envision the future of our industry, discover and unlock the currently available resources, possible solutions, and transformative potential of the industry of tomorrow.
CPH:CONFERENCE will be held from Monday to Friday, March 20-24, 2023 in Copenhagen, as a part of CPH:DOX, Copenhagen Intl. Documentary Film Festival. The event will be open to all accredited guests, as well as the public. As a unique industry event, CPH:CONFERENCE is curated and presented in partnership with the leading documentary film festival CPH:DOX.
Mornings with Filmmakers
The mornings of CPH:CONFERENCE are dedicated to the art of filmmaking - and creative challenges it brings. The programme will feature a series of conversations of award-winning filmmakers such as the Oscar winners Elizabeth Chai Vasarhelyi or Asif Kapadia, Oscar nominees Jessica Kingdon, Maite Alberdi, or Jialing Zhang. In formats "Artists & Auteurs" and "Dialogues on Craft", the filmmakers will walk the audience through their most recent films and discuss how they negotiated access, developed deep intimacy and maintained the security of vulnerable characters of their films, in order to create powerful, cinematic language for nuanced, complicated stories.
Future at our Fingertips
Taking a point of departure in the changed post-pandemic distribution and financing landscape, the afternoons will bring together producers and gatekeepers of the non-fiction world to collectively envision a positive future for the industry. Centered around core questions of inclusivity, freedom and sustainability of documentary as an art form, the programme will feature inspiring keynotes, case studies and panel discussions of representatives of key commercial entities incl. Netflix, Amazon or Concordia Studios, public broadcasters and institutions such as the United Nations, and philanthropy organisations incl. Open Society Foundation, IRIS and many others.
Film for Democracy
The programme of CPH:CONFERENCE 2023 will culminate on the last day dedicated to the role of film and filmmakers in society. Prominent filmmakers such as Margreth Olin, Elwira Niewiera, or Nanfu Wang will join their fellow citizens among civil society leaders, visionaries, and thinkers to collectively brainstorm the possibilities of cinema to help build and strengthen democracy, freedom and equality.
Programme
Monday, March 20 09:30-11:00
Artists & Auteurs - Asif Kapadia
Academy Award, BAFTA and Grammy winning British director Asif Kapadia joins us to present his latest film, Creature (2022). Capturing a dance performance choreographed by Akram Khan in a way that "succeeds in making dance feel accessible and intimate" (Deadline). Kapadia will discuss this new work and why he pushes himself to try new things.
Moderated by: Thom Powers
Monday, March 20 11:30-13:00
A Dialogue on Craft with Maite Alberdi and Anna Hints
Join us for A DIALOGUE ON CRAFT with the Academy Award nominated, award-winning Chilean filmmaker Maite Alberdi (Mole Agent, 2020) and recent Sundance Best Directing awardee, Estonian filmmaker Anna Hints. The two filmmakers will have a conversation about their most recent films The Eternal Memory (2023) and Smoke Sauna Sisterhood (2023), celebrating their European premieres at CPH:DOX 2023. How they navigated the deep intimacy their films bring the audiences into, managed to protect and celebrate their characters' vulnerability, and create transformative, humanistic, spiritual pieces of cinema dealing with human bodies, traumas and healing.
Moderated by: Wendy Mitchell, Screen International
Tuesday, March 21 09:30-11:00
Artists & Auteurs - Elizabeth Chai Vasarhelyi
Independent Spirit Award nominated, Academy Award-winning American documentary filmmaker Elizabeth Chai Vasarhelyi presents her new feature film, Wild Life (2023), which tells the love story of Kris McDivitt Tompkins and Douglas Tompkins, and their mission to create National Parks throughout Chile and Argentina. Vasarhelyi will discuss her approach to getting guarded people to tell their stories.
Moderated by: Thom Powers
Tuesday, March 21 11:30-13:00
A Dialogue on Craft with Alison O'Daniel, Axel Danielson and Maximilien Van Aertryck
Join us for A DIALOGUE ON CRAFT with visual artist and filmmaker, working across sound, cinema, sculpture, installation and performance, Alison O'Daniel, in conversation with Academy Award shortlisted Ten Meter Tower directors, Axel Danielson and Maximilien Van Aertryck from Ruben Östlund's Plattform Produktion. Bending cinematic language to portray new stories, they will discuss their meticulous, transcendental image-making, exploring the very nature of film language in their most recent films The Tuba Thieves (2023) and And the king said, what a FANTASTIC MACHINE (2023), featured in this year's CPH:DOX programme.
Moderated by: Wendy Mitchell, Screen International
Tuesday, 21 March 15:00-17:45
Future at Our Fingertips / Filmmaking: Freedom
In times of scarcity, what does a seat at the table mean, and who gets it?
Recognising enhanced market pressures on creative documentaries, the first day of the Conference will invite the documentary community to collectively brainstorm on how filmmakers can be better equipped, empowered and freed to bring on screen nuanced stories from all four corners of the world.
Co-hosted by: Malikkah Rollins and Philippa Kowarsky
15:00-15:15 The Lens Reflected
In the most extensive research ever conducted on representation in documentary, the Center for Media & Social Impact (CMSI) studied the racial and gender diversity of directors and protagonists across more than 1,200 documentaries distributed between 2014 and 2020. Katy Borum, one of the leaders of the study, presents its findings hinting at the new distribution patterns, defining nonfiction storytelling for audiences.
15:15-16:15 Space for Variety
Noting the market is ever more reluctant to take risks, how can we ensure the richness, heterogeneity and artistic freedom of the non-fiction genre? While we are finding ways to document inequality in terms of race and gender, can we find a method that would reflect the various historic, cultural, social and geopolitical realities? And is there a systemic way to secure space for the variety of artistic expressions themselves?
Speakers: Kate Townsend, Hanka Kastelicova, Emma Hindley, Sabine Lange, Brianna Oh
16:30-17:30 The Trust Policy
Unrestricted grants, fellowships and career support programmes represent a compelling innovation in the funding ecosystem. Can setting filmmakers – instead of their projects – in the center of the industry counterbalance market pressures and guarantee artistic originality, access to talents from underrepresented communities and deeper artistic reflections of the world?
Speakers: Shanida Scotland, Jess Kwan, Jenny Wolfson, Sean Flynn
Wednesday, March 22 9:30-11:00
ARTISTS & AUTEURS - Roger Ross Williams
Award-winning director, producer and writer Roger Ross Wiliams is the first African American director to win an Academy Award. He is having a banner year with the release of a new TV series (The 1619 Project, 2023), fiction film (Cassandro, 2023) and documentary, playing this year at CPH:DOX, Love to Love You, Donna Summer (2023). Williams will discuss how he navigated the different creative and logistic demands of these projects.
Moderated by: Thom Powers
Wednesday, March 23 11:30-13:00
A Dialogue on Craft with Jialing Zhang, Puk Damsgaard and Søren Klovborg
Join us for A DIALOGUE ON CRAFT with Emmy-nominated, Sundance winning independent Chinese filmmaker Jialing Zhang, discussing her newest film Total Trust (2023), with the authors of the The Hostage Takers (2023), award-winning investigative journalists and filmmakers Puk Damsgård and Søren Klovborg, whose films are competing against each other at CPH:DOX's F:ACT Award competition. The filmmakers will discuss ways they obtained access to secret and politically sensitive information, maintained the security of the protagonists and the shoot itself, but also figure out how to use controversial materials and come up with nuanced stories that make the audience consider more than one perspective.
Moderated by: Wendy Mitchell, Screen International
Wednesday, 22 March 15:00-17:30
Future at our Fingertips / Production : Sustainability
How to burn for non-fiction stories and not to burn out?
Tackling the fundamental unpredictability of independent production, the second day of the Conference invites the documentary community to discuss strategies designed to gather both public, as well as commercial potential, in order to build a more stable, and eventually feasible framework for filmmakers, producers and the industry at large.
Co-hosted by: Malikkah Rollins and Philippa Kowarsky
15:00-15:15 Responding to Permacrisis
2022's Word of the Year "Permacrisis" fittingly reflects a dizzying sense of lurching from one trouble to another. The DocuMentality initiative is currently running a thorough research of the roots – and solutions for disproportionally high levels of stress, depression and sense of powerlessness in the nonfiction industry. Rebecca Day, one of the initiators of the project, will introduce the work on a mental health toolkit of resources for the documentary community, and invites us to participate in research focus groups at CPH:DOX.
15:15-16:15 Seeking Stability
Given the role producers play in finding, shaping, and championing the voices of independent filmmakers, what structures do we need to ensure their own endurance? As market demands, distribution outlets and financing opportunities change constantly, how can producers survive and thrive, in order to honor their commitment to filmmakers? And how are their business strategies shaping the field at large?
Speakers: Christian Beetz, Andreas Dalsgaard, Charlotte Cook, Julie Goldman
16:30-17:30 Navigating Bumpy Roads
With the documentary film market increasingly shaped by commercial entertainment entities, how can independent filmmakers sustain themselves? What role can talent agents, representing actors, artists, athletes – but also documentarians – play in navigating the challenging landscape of rapidly changing opportunities for their clients to make a living while finding a space for independent, artistic projects?
Speakers: Amanda Lebow, Jason Ishikawa, Grace Royer
Thursday, March 23 09:30-11:00
Artists & Auteurs - Jessica Kingdon
Chinese American director and producer Jessica Kingdon was nominated for the 2022 Academy Award for Best Documentary Feature for directing the documentary Ascension (2021), looking at China's growing economic progress and increasing economic divide against the backdrop of the pursuit of the Chinese Dream. Today she'll discuss the journey of making Ascension and what she's carried forward from that experience in her future projects.
Moderated by: Thom Powers
Thursday, 23 March 15:00-17:30
Future at our Fingertips / Distribution : Community
Keep an eye out for the eyeballs we are missing out!
Making a point of the changed post-pandemic distribution landscape, the third day of the Conference will tap into understanding new audiences and innovative ways to reach and engage them! We open a discussion of forgotten audience demographics and ways to make sure distribution can actually generate an income.
15:00-15:15 Embrace the New
"Being distributed doesn't mean being seen," writes Brian Newman, in his Sub-Genre newsletter – suggesting that in a time of turmoil in the documentary ecosystem, we need to put aside our fears, give up on antiquated systems and build something new for the future. What could that look like, and what steps do we take to get there?
Co-hosted by: Malikkah Rollins and Philippa Kowarsky
15:15-16:15 Overlooked Crowds
The pandemic has accelerated the countless challenges documentaries and their distributors face. While despairing over evaporating audiences, what if the middle-aged, middle-class cinema-goers are just the wrong demographics to chase? Could more diverse programming bring more diverse audiences? In a series of inspiring mini key-studies, innovative distributors, visionaries and radical thinkers explore new possible ways to meet new audiences, on both big and small screens.
Speakers: Kate Gondwe, Alan Milligan
16:30-17:30 Beyond Impact
In the context of a growing global demand for commercial, smooth nonfiction stories – what role can major public institutions and philanthropic organizations play in the support of independent artistic practice? Is there a way to overcome issue silos of various nonprofits and develop broad, inclusive structures (and budgets) that would enable filmmakers to systematically contribute to civil society's work and benefit from its resources?
Speakers: Cara Mertes, Patricia Finneran, Veronika Châtelain, Anadil Hossain
Thursday, March 23 11:30-13:00
A DIALOGUE ON CRAFT WITH HEBA KHALED, TALAL DERKI AND GUY DAVIDI
Join us for A DIALOGUE ON CRAFT with the Academy Award nominated Syrian Kurdish filmmakers Talal Derki and Heba Khaled (Of Fathers and Sons) in conversation with Academy Award nominated and Emmy Award winner Israeli filmmaker Guy Davidi (5 Broken Cameras), discussing their most recent films Under the Sky of Damascus (2023) and Innocence (2023), featured by this year's CPH:DOX post their Berlinale and Venezia premiere. The filmmakers will discuss the challenges and creative obstacles of making politically critical films in their war-thorn home countries, whose respective regimes fail in guaranteeing freedom and equality to all its citizens. While the world turns away from the old news, their filmmaking keeps challenging deeply grounded power structures of the status quo.
Moderated by: Wendy Mitchell, Screen International
Friday, 24 March 10:00-13:30
Film & Democracy
When the world is on fire, are burning films all we can do?
Noting that actual change requires more than packed screenings, the last day of the Conference will gather filmmakers - alongside their fellow citizens among civil society leaders, visionaries, and thinkers to discuss the possibilities of cinema to help build and strengthen democracy, freedom and equality for the world of tomorrow.
Moderated by: Anadil Hossain
10:00-10:25 Opening Keynote by Aaju Peter
10:25-11:25 Citizens Filmmakers
Documentary filmmakers play the role of "change agents" in society and their films advocate for social, cultural, political and legal change. The level of engagement in the issues their films are documenting, belongs to the biggest dilemmas in documentary practice. How to document political, social and humanitarian issues that determine the world we all live in – and when to stop shooting and move on to act upon them?
Speakers: Elwira Niewiera, Nanfu Wang, Alisa Kovalenko, Anne-Marie Borsboom
11:30-11:50 Enabling accountability. A Conversation
Since February 24, 2022, millions of Ukrainians have witnessed - and documented - all aspects of life during the largest European war since WW2. In cooperation with the Nobel Peace Prize awarded Centre for Civil Liberties, the team of the documentary festival DocuDays UA has established a "Ukraine War Archive", centralizing an unprecedented, real-time undertaking of citizen journalists. By categorizing thousands of hours of footage, the initiative is set to gather evidence for future investigation and understanding.
Speaker: Roman Bondarchuk, Ukraine War Archive
12:15-13:30 Songs of Earth - Listening to Care
In Margreth Olin's SONGS OF EARTH, premiering at CPH:DOX main competition, the mountainous landscapes of Norway provide a monumental backdrop for an existential journey dealing with life and death in - and of - nature. Gathering momentum of a shared feeling of urgency, the braintrust around the film brings together filmmakers – alongside their fellow citizens among civil society leaders, visionaries, and thinkers to unite behind radical political steps to be taken, on the various levels, to preserve the nature we are losing touch with.
Participating: Margreth Olin, Jess Search, Diego Galafassi, Cara Mertes, Bo Øksnebjerg, Danielle Turkov Wilson