Derren Lawford delivers daring keynote speech at CPH:CONFERENCE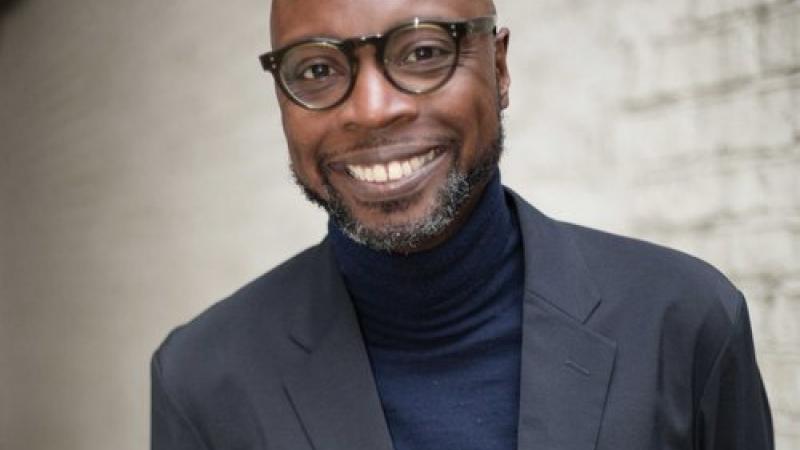 At CPH:CONFERENCE 2022 Business As Unusual, Derren Lawford, Founder and CEO of DARE Pictures gave a keynote speech, calling for a shift of our focus from where the money is to where and to whom it should flow to. We publish the speech in full. 
Seismic Change, systemic change: how to shape the future of funding
Hello – my name is Derren Lawford. I'm the founder and CEO of DARE Pictures. We're a transnational studio dedicated to inclusive and impactful documentaries, dramas and films.
The first thing I'd like to do is thank CPH:Dox for inviting me to speak today. I have to confess that when they approached me to give this keynote speech I was both flattered and confused. I didn't quite understand why I'd been asked... I've never attended CPH:Dox before… I'm not someone who has worked exclusively (or even predominantly) in the world of feature docs and creative docs. Lastly, I wondered how wise it was to be talking about disrupting the system of funding programmes, when I'm still very much dependent on that system for my livelihood, particularly now I've just launched a new venture.
Then a good friend said to me: "Well Derren -  there's no point naming your company DARE, if you're not prepared to try new things". So here I am…
As for disrupting the system – I guess it's something I've always done but often only realised I was doing it in retrospect. I remember when I joined Woodcut Media – the first documentary I executive produced was funded by private equity with a strategic partnership with a distributor. We publicly and proudly announced we were making this documentary before we'd shot a single frame and before we had a single channel attached. It was a topical documentary so we figured, if we shouted loudest and first, it would scare off the competition. It worked.
We sold the documentary to ITV and various channels around the world. I'd never worked at an independent production company before, so I hadn't realised that wasn't the way things were supposed to work. You were supposed to get it commissioned from a broadcaster first, then give it to a distributor to sell around the world.
But having done it differently once, we figured why not do it again? We did of course pitch to commissioners, however when the right project came along, sometimes we tried a different approach…
For example, when we were offered the opportunity to co-produce a documentary with Idris Elba's Green Door Pictures. They wanted to make a fashion documentary and had exclusive access to Superdry, who Idris was collaborating with for the first time. Partly because of his ever changing schedule – we didn't know when we would film and how long the production would take - we decided to co-fund the series together. Somewhat naively in retrospect, I figured that it was the kind of project that would suit Netflix and almost assumed they would take it. Luckily for us they did. We shared the finished programme with a distributor and Cut From A Different Cloth was successfully bought by Netflix as a global acquisition.
The models we adopted aren't unusual in the world of film, high end drama and feature documentaries – in fact……according to the Keeping It Real report (published in 2020) personal funds are by far the most common source of funding for feature docs: 43% of the 200 respondents had invested their own money in their films, with 18% investing 20,000 euros or more. After personal funds -  foundations or private investors accounted for 27% of feature docs funded in the UK.
But in the world of commercial, factual programmes, it was pretty rare - and so disruptive by default.
While at Woodcut Media we continued to disrupt by default – pitching to distributors, channel acquisition teams, commissioners and private investors concurrently and sometimes simultaneously. It's much more widespread in the commercial factual space now than it was five years ago and Woodcut was undoubtedly at the forefront of that in the UK.
One of the reasons we were able to be so bold was because we were effectively a start-up. And one way or another - throughout my career  - I've found myself at the start of things…on the cusp of industry moments.
Sometimes they pay off. Sometimes they don't.
Back in 1999 I was the founding editorial member of a youth TV channel called whereitsat – launched by David Rose who'd worked at Disney and Nickelodeon. It was carried on Sky for a time, but his plans were much more innovative and bolder than traditional TV. We were due to be included as a TV package within BT broadband's offering to its customers. That's pretty commonplace now – triple-pay deals for your broadband, phone and TV services. However in 1999… it was risky… and the investment fell through. But the talent behind whereitsat went on to become successful commissioners, directors, authors and executive producers.
Fast forward to 2011 – Matthew Littleford -  the former controller of UKTV - asked me if I'd join him and the late, great Jana Bennet to help launch a global SVOD service.  It was called BBC Global iPlayer and would showcase the best of British programmes.  It was launched on Apple Devices in 16 territories - mainly in Europe  - but also Australia and Canada too. It was disruptive to existing business models and I suddenly had to get up to speed very quickly on why windowing content was so important – each territory had its own internal market with its own established rules -  and global SVOD back then wasn't one of them.
At the time, Netflix was only tentatively reaching out to new territories. Unfortunately for us, more often than not they were the same territories as ours. Global iPlayer faded away, but undeterred, five years later the BBC and ITV launched a similar proposition - called BritBox - -and now? Global SVOD services have become the norm.
So what's the next thing that needs to be disrupted, before it becomes the norm? Well maybe it's time to shift our focus from where the money is – to where and to whom the money should flow to?
Ultimately, if we want the industry to be more inclusive… if we want the programmes we make to be more reflective of the audiences and their lived experiences around the world…then a few things need to change -  or at the very least keep changing.
I fully accept that the motivations for doing so may differ. For some people this is a vocation, for others it feels like an obligation. Whether you choose to do so for purpose or for profit matters less than doing nothing at all -  especially if we want to work in a sustainable industry in the long term. Why? Because the cost of ignoring audiences is literally costing the industry money.
In 2016 movies that were cast with 20% minorities or less, made for the majority of films with the lowest global box office.
In contrast - global return on investment peaked for films that were cast with 41% to 50% minorities.
Clearly this trend is being driven by the audiences and the emergence of a new mainstream - which feels niche now… until they grow up and become the majority spenders of money in the world. This new mainstream is being defined by a global demographic shift, dubbed by some as "peak youth".
A quarter of the globe are young people aged 10 to 24 – they're more educated, multi-cultural, tech-savvy and opiniated than any generation before them. They're the biggest youth generation in history and a large proportion of them live in the continents of Asia and Africa. Meanwhile in the UK, BBC audience research has shown this youth generation has a higher than average interest in issues such as equality, justice, morality and current societal issues.
We all know that there's a diversity deficit on screen and I've mentioned some historic costs to the industry – but there's also an ongoing cost. A recent McKinsey report found that Hollywood loses $10 billion a year due to lack of diversity.
So diversity really matters.
I've always thought that if you made the measures on increasing diversity and inclusivity in the industry - performance related – then people's performance in this area would improve proportionately and consistently. Perhaps that's why we've seen such a huge rush to invest in programmes that are more reflective of nonwhite lived experiences. That… and of course, the tragic death of yet another Black man at the hands of the police which, sparked a global conversation about race, racism and anti-racism throughout institutions - cultural, political and financial - worldwide.
However, as Naomi Campbell said in her recent Vogue interview: "I'm proud to see the diversity now, but we're not here for a trend. There is still a long way to go".
And in order to get there the money needs to flow differently - to help create, not lose 10 billion a year. There's a meaningful incentive here where purpose and profit can co-exist.
So where should the money flow and to whom?
For me, there needs to be an industry-wide "inclusive investment strategy", if we genuinely want to make change.
We need to invest in talent – in the UK we're getting much better at investing in junior talent from underrepresented backgrounds. However a report out this month by Project Diamond - which was launched to monitor diversity in the UK TV industry - paints a stark picture. Representation of disabled people in senior roles over the past five years has fallen from 6.6% to 4.5%, way behind the national average. When you dig deeper only 2.1% of exec producers are disabled. Only 0.4% of exec producers in the UK are Black like me. So when Marcus Ryder wrote in 2019: "Being a black TV exec can feel like being an endangered species!", he wasn't exaggerating. He was merely stating a statistical fact.
When you represent less than 1% of the senior editorial producers in the UK, how well are stories about your lived experiences really being told?
Cherish Oteka, decided to find out - undertaking academic research with the Sir Lenny Henry Centre for Media Diversity while simultaneously directing their latest film, The Black Cop.  The report was called "Black in Fact: Beyond the White Gaze". It's well worth a read in full. Here are some of the highlights…
Cherish looked at 275 documentary programmes streamed by Public Service Broadcasters on their VOD services between  April and May last year. Here's what they found:
When programmes centred Black people, they often perpetuated well established racial tropes and stereotypes…
Race and racism were the leading subject matters when a programme featured a Black person.
Crime was the second most popular subject matter that centres Black people.
Music was the third leading subject matter of programmes that centre a Black person.
Suffice to say that among many other damning things - the report found that the representation of Black people in documentaries is not varied or nuanced enough.
Cherish's film, The Black Cop which had an all-Black production crew - and an overwhelming diverse team - in terms of race, gender and identity… went on to win a BAFTA earlier this month for best short film. Full disclosure: I played a small part in the production as an editorial consultant, and I am an unashamedly huge fan of theirs. The Black Cop is an incredibly powerful story about a former police officer who discusses his memories of homophobia and racial profiling in the police force. It's also an incredibly sensitive and nuanced film that deals with Black and Gay self-hatred and ultimately the redemptive power of self-love.
As they took to the stage to accept their award and gave their speech - there's no doubt in my mind that someone at home watching them on the TV will have been inspired to follow in their footsteps. It's worth noting that Cherish is the first openly non-binary person to have won a BAFTA too.
So representation really matters.
Another area where inclusive investment would pay dividends is in the world of co-productions. Although the UK and Jamaica have a co-production treaty, there has yet to be an official co-production between the two nations. Although Canada has an incredible reputation as a co-production partner… it doesn't have any co-production treaties with Caribbean countries - and only one African country - South Africa - despite having a significant Black population. Investing more time and money into changing the status quo would be another good place to start.
Now I might be biased,  but there's also an argument for the industry to be investing significantly more in companies that are led by underrepresented groups. This isn't just for my benefit - although I wouldn't rule out investment…
The real benefit though is for our audiences, the consumers of our stories.
Take a company like Dose of Society who I was an advisor to. They're a social first, purpose-led, content company, run by two enterprising young Black men - Nii and Ahmed. They received corporate investment from Snap Inc. a few years ago via their Yellow accelerator programme. Dose of Society are now reaching millions of people with their short docs on Snap Chat and yes, they're making money from it as a business. But what I'm saying isn't new… Black and Brown people in the UK with much higher profiles than me have been publicly calling for change for some time now. From Lenny Henry in 2014 to Idris Elba and Riz Ahmed since then.
One of the main reasons we find ourselves in this frustratingly circular conversation about systemic change… is because of something Marcus Ryder refers to as "institutional amnesia" – organizations have been trying so many different schemes and initiatives over the years - that it's easy to forget which ones actually worked and which ones didn't.
So in that vein I'd like to highlight some suggestions from my Black and Brown peers and a couple of my own which could all help to fundamentally change how we as an industry financially commit to diversity and representation…
As I mentioned earlier there are at least 10 billion reasons why it's worth finding a way to bring a wider variety of stories - from as many different lived experiences as possible - to screens…big and small.
So take your pick from the following…
Faraz Osman who runs content company Gold Wala in the UK has a suggestion. If a big company get a sizeable commission, part of the deal is that they partner up with a smaller, diverse company. That way we have a plurality of ideas, a genuinely inclusive commissioning ecosystem and crucially a smaller company gains the experience to do bigger shows without the broadcaster feeling like it's a risky endeavour.
Tonya Williams is executive director of diverse recruitment platform Access Reelworld based in Canada. She's actively campaigning for there to be formal co-pro treaties with countries from the African diaspora. One of the barriers I suspect is that co-pro treaties are also means of funding, not merely collaboration.  However, there's already an ad hoc tradition of countries in Europe having transnational funding models– namely giving people from other countries money to make films about their lives.
So what's to stop the top 10 co-producing nations contributing to a transnational fund for the African Diaspora for example?
In the UK, there's a social entrepreneur called Kevin Osborne. His latest venture is called Create Equity. Their social mission is to make investment in the arts, social enterprise and commercial industries racially equitable.
In his recent article titled "What can impact investment contribute to race equity?" He points to the fact that only 1.7% of venture capital investments, 2.4% of public grants and 2.6% of impact investment go to Black-led organizations in the UK. This would be 14% - if investments were distributed in proportion to the Black population. Were this the case, then overnight  £896m would be raised to empower Black-led enterprises.
Kevin's a huge fan of impact investment and I can see why -  it's not just about investing financially, it's about holding yourself accountable as an investor for delivering and increasing positive impact. 
The total value of impact investment in the UK is currently £6.4bn - and it's set to double by 2025. 
So what if the top 10 media companies in the world committed to making all future investments in diverse led companies, impact investments?
Now…if any of these suggestions sound radical and disruptive… at least we'd be self-disrupting the industry. It's something Tom Goodwin speaks highly of in his book Digital Darwinism. The danger is that if we don't do it, then businesses historically successful in other spheres like tech and social media could disrupt it – like Amazon buying MGM and TikTok partnering with the Cannes Film Festival.
This year's contender for industry disruptor is clearly NFTs. It doesn't matter if you don't know what they are, or find it hard to understand why someone would buy digital goods – the entertainment industry is flooding  this space with good reason. Why? Because if you love the NBA – how do you put a price on owning a seminal clip? If you love Nas, how do you put a price on owning a portion of one of his songs? If you love documentaries, how do you put a price on bringing that to life and owning a piece of it?
Hype, sustainability and speculation issues aside -  this shift in behaviour is being driven by audiences, communities and fans who want to invest in and own something they care about.
They're not asking for permission from an established system. They're creating one of their own, whether we're involved in it or not.
Now a young Black man called Jamal Edwards was someone who wasn't afraid to disrupt. He was a fan as much as he was a creator of content, online communities and real-life opportunities. He died last month at the age of 31. He's someone I've worked with, supported, mentored and admired since we were first introduced by a mutual friend - Chantelle Fiddy - in 2009. For those of you who have never heard of Jamal… he was an incredibly influential media and music entrepreneur in the UK. He helped launch the careers of so many people, both famous and behind the scenes. This speech is dedicated to him.
I last saw him a few weeks before he passed. We chatted about a few things – a potential collaboration about his beloved St Vincent. I was keen to find out more about 8Bars - his new mobile platform for new music artists to get discovered and developed. He was very proud of his C4 series Unapologetic and very grateful to Pat Younge from Cardiff Productions who had co-produced it with his company SB.TV.
The day after Jamal died I was listening to 1Xtra. It's a Black music station in the UK and home to a whole host of artists and DJs who were indebted to him in some way. Nadia Jaye, a 1Xtra DJ said simply: "He wanted everyone to win". It reminded me of our first project together in 2010.  It was called Jail Tales - a series of short films, music videos, a radio documentary and a podcast. It was considered an unusual co-production at the time - the BBC partnering with an emerging You Tube channel called SB.TV run by a 19 year old.
Jamal and I were chatting about music talent and I suggested we draw up a list of 10 artists to see how compatible we would be to work together. We agreed on 7. There were three people that I hadn't heard of who Jamal was passionate about. At the time all three of them were unsigned. Their names were Maverick Sabre, Wretch 32 and Ed Sheeran.
Fast forward a couple of years and I'm watching ITV - the biggest commercial broadcaster in the UK. Ed Sheeran is performing live. Then the adverts come on and Maverick Sabre is being promoted as an artist to watch. Then a Google Chrome advert comes on and it's all about Jamal and his music platform SB.TV. Soon enough Wretch 32 broke through to the mainstream too - and I got promoted as well.
Everyone was winning in their own way.
So my question to all of you today is this…what are you doing to ensure that everyone is winning in their own way?
Because there's enough room in the sky for us all to fly.
Thank you for listening…