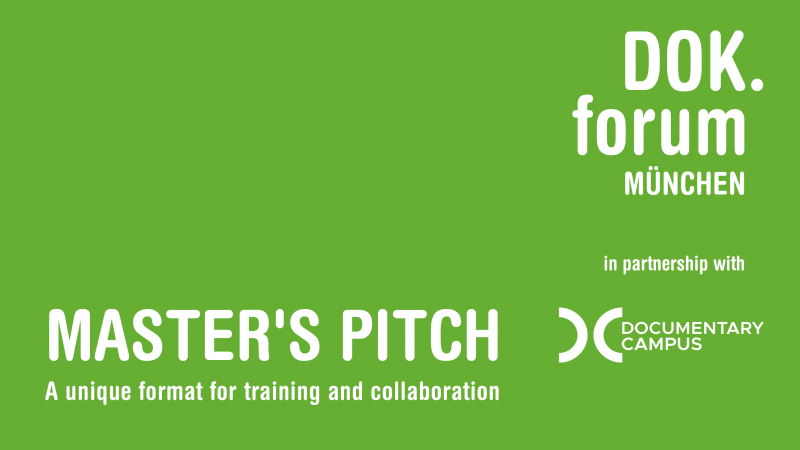 The Master's Pitch is a unique format for training and collaboration, initiated by Documentary Campus and DOK.fest München. In the form of a public pitch, eight selected teams will present their documentary projects in the development stage to industry experts. 
As an interactive platform, the Master's Pitch provides constructive feedback and offers the chance to initiate the development of new film projects in a collaborative atmosphere. The audience, including filmmakers, producers, sales agents and representatives of major broadcasters and platforms, will also be involved and invited to provide feedback on the pitches.
This year`s Master`s Pitch is curated and moderated by documentary consultant Gitte Hansen. 
Industry experts:
Miriam Carbe, ZDF/ARTE Commissioning Editor
Shoshi Korman, Cinephil, Head of Marketing
Barbara Truyen, VPRO, Commissioning Editor
Jutta Krug, WDR, Commissioning Editor
Matthias Leybrand, BR, Commissioning Editor
Lara Sword, Little Dot Studios, Senior Acquisitions Manager
Selected projects
FIGHTING DEMONS WITH DRAGONS // Director Camilla Magid Producer Heidi Elise Christensen

HEADSHOTS - ANJA NIEDRINGHAUS, PHOTOGRAPHER // Director Sonya Winterberg Producer Birgit Schulz

LETTERS FROM MS. IRAN // Director Farahnaz Sharifi Producer Anke Petersen

SHE SINGS OF MURDER AND LOVE // Director Virginia Heath Producer Grant Keir, Faction North, Alex Tondowski, Tondowski Films, David Power & Ciaran Deeney EZ Films

SON OF THE STREETS // Director Mohammed Almughanni Producer Rashid Abdelhamid

THE SREBRENICA TAPE // Director Chiara Sambuchi Producer Antje Boehmert

THE VALLEY OF THE WIDOWS // Director Miro Jelok Producer Katarina Jonisova, Miro Jelok 

THE VISITOR // Director Zvi Landsman Producer Zvi Landsman
Read more about the selected projects here. 
Programme
Saturday, 6 May 9.30-9.45
Opening and Welcome
Welcome to the Master`s Pitch
9.45-10.45
Pitching Block 1
Letters from Mrs. Iran
The Visitor
She Sings of Murder and Love
Fighting Demons with Dragons
10.45-11.30
Presentation of Big 5
Presentation of Big 5 project: GIGOLO FOR JESUS // Director Heike Bachelier Producer Matthias Miegel
12.00-13.00
Pitch Block 2
Headshots - Anja Niedringhaus, Photographer
The Valley of the Widows
Son of the Streets
The Srebrenica Tape
13:00
Wrap-up
Closing words by moderator Gitte Hansen