SILBERSALZ Institute Inspiration Session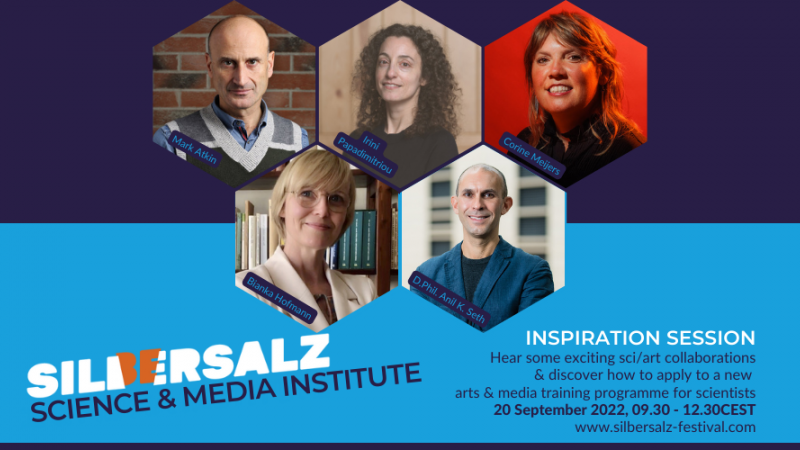 The SILBERSALZ Institute is a year-long, program enabling scientists, researchers, designers, creative technologists, and artists to work together on developing new innovative projects in order to bring scientific research into mainstream media.
At the SILBERSALZ Institute Inspiration Session, all prospective applications were invited to join and find out about this exciting new training initiative. At this online webinar, applicants met the experts who will be guiding participants through the programme and heard from leading artists and scientists about some of the benefits of expressing scientific research though arts and media.
Scientists from all fields of science, currently conducting research linked to European institutions who are interested in collaborating with artists and media professionals to develop new creative work that showcases their research were welcome to participate. Media professionals who are interested in working with scientists were also welcome to attend.
Programme
Mark Atkin
At SILBERSALZ Institute Inspiration Session 2022, Head of Program Mark Atkin presents the rich and varied program of the Institute.
Irini Papadimitriou
Meet Irini Papadimitriou, the Head of Study Arts & Culture, and Creative Director at FutureEverything at SILBERSALZ Institute Inspiration Session 2022.
Corine Meijers
Meet the Head of Study Immersive & Interactive, Corine Meijers, and Producer at Studio Biarritz at SILBERSALZ Institute Inspiration Session 2022.
Bianka Hofmann "Making Sense"
At SILBERSALZ Institute Inspiration Session 2022, Bianka Hofmann delivered "Making Sense: Purpose and Impact Integrating Science, Art, and Technology – Insights and Examples from an Applied Science Research Institution"
At Fraunhofer MEVIS, co-operating with artists and filmmakers is seen as an opportunity to facilitate emotional, positive encounters with science, share the impact of new technological developments, reach diverse and new audiences, and create contemporary science engagement formats.
D.Phil. Anil K. Seth "Do you see what I see?"
Dreamachine is a new collective, immersive experience produced by Collective Act, together with Turner Prize-winning artists Assemble, Grammy and Mercury nominated composer Jon Hopkins, and a team of leading technologists, scientists and philosophers as part of UNBOXED: Creativity in the UK. It is a seated multisensory experience that combines white flickering light and music to create a colourful world behind your closed eyes. Created by a team of leading minds in architecture, technology, music, neuroscience, and philosophy, it is inspired by an extraordinary 1959 invention by artist Brion Gysin, described as the 'first artwork to be experienced with your eyes closed'. I will talk about Dreamachine, and one of the programme's projects, The Perception Census, which is a large-scale online citizen science exploration of how we each experience a unique world – of what I call 'perceptual diversity'. Together, Dreamachine and The Perception Census showcase the interface between art, science, and technology and its potential to shed new light on the human condition.
At SILBERSALZ Institute Inspiration Session, Seth delivered the talk "Do you see what I see? Dreamachine and the Perception Census" which covered his research and immersive experience, and how science can be translated to all media.