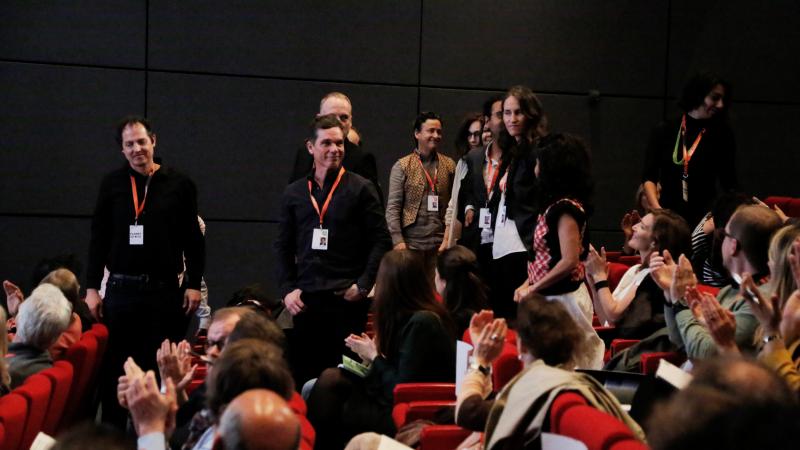 Now more than ever the documentary industry/community relies on the Magic Triangle of independent creators, public funds, and broadcasters/platforms collaborating financially and creatively to keep the power of documentary alive and kicking. But how do we keep the creative juices flowing? What do filmmakers/producers need to flourish? What do funders need to stay relevant? And what do broadcasters/platforms need to engage and enlighten audiences?
In collaboration with DOK.forum, the Industry platform of DOK.fest München we are organising the Masters' Pitch 2022. In this interactive format 9 new documentary projects heading into this transitioning market, will be presented to international commissioners and experts. Feedback is also sought from the audience, including producers, directors, distributors and representatives of major broadcasters. Our Jury members will be in the spotlight as well to share their reflections and current needs in short impulse talks.
Among the 9 selected projects, two projects from our training initiative Campus Istanbul were selected:
Wheat Skin (Meryem Yavuz, Erhan Arik)
Vibe Istanbul (Saeed Nasiri, Nafise Motlaq)
Jury:
Sabine Bubeck-Paaz, ZDF 
Timo Großpietsch, NDR 
Derren Lawford, Dare Pictures 
Matthias Leybrand, BR 
Philippa Kowarsky, BBC
Esther van Messel, First Hand Films
Jake Wiafe, Little Dot Studios 
The event will be moderated by renowned documentary consultant Karolina Lidin (Nordisk Film & TV Fund).
The full programme is available here.