Audience Design: New Perspectives on Story & Audience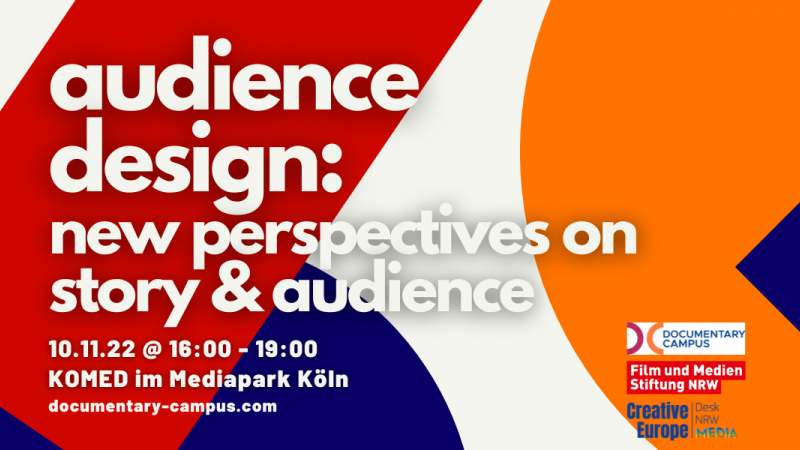 "Companies that don't understand digital communities will die" (The Economist)
The rapidly changing documentary industry has influenced our strategies and means of distribution. We have to redefine our roles as authors, producers, distributors and broadcasters. We have to be more flexible. And more than ever: We have to know our audiences.
How can documentaries better connect to their audiences to gain visibility and generate impact? The session will focus on new opportunities in reaching audiences and give insights into new options for distribution on multiple platforms.
The event is organized by Documentary Campus, in collaboration with the Film- und Medienstiftung NRW and Creative Europe Desk NRW.
Curated by Eva Rink, VIVE la DOK, Berlin
Programme
Keynote Session: Audience Design and its potential for documentaries
16:15 - 17:00
Speaker: Paul Rieth, Strategist, Tutor and Lecturer

How can "Audience Design" be used to identify interested audiences at an early stage, in order to think about and involve the audiences more intensively during the development, production and release of a film? Audience Design as method identifies themes, settings, protagonists and background information within a treatment and/or the finished film to develop touch points that allow access to specific audiences.
This session will explain how through effective audience strategies and online marketing, target groups can be addressed from the beginning of the film production and thus become valuable multipliers within the whole production and distribution process.
Producing for various platforms – Case Study: Game of Minds (2022, FIN/DE)
17:15 - 17:45
Speakers:
Marianne Mäkelä, napafilms, Finland
Corso Films, Germany

"Game of Minds" is a 'documentary content universe' about young professional esports gamers who try to make it in the very harsh industry with the help of the world's best sports psychologist. A German-based team is trying to be the best in the world, while a Finnish
gamer is taking the step millions of bedroom gamer dreams of – becoming a professional.

"Game of Minds" is a simultaneously produced production of a one-off feature film (75min), web series (4 x 20 min) and two different types of social media series (5x5 min & 10x1min). In this session, the producers share insights into how they carefully planned and produced with multiple platforms, broadcasters and audiences in mind.
Impulse: Creative digital distribution strategies
18:00 - 18:30
Speaker: Vincent Lucassen, Aggregator, Under the Milky Way, Austria
Interactive Session
18:30 - 19:00
Speakers:
Paul Rieth, Strategist, Tutor and Lecturer, Germany
Marianne Mäkelä, Producer napafilms, Finland
Producer Corso Films, Germany
Vincent Lucassen, Aggregator, Under the Milky Way, Austria
Get Together
19:00 - 21:00
Join us and the speakers for networking drinks!