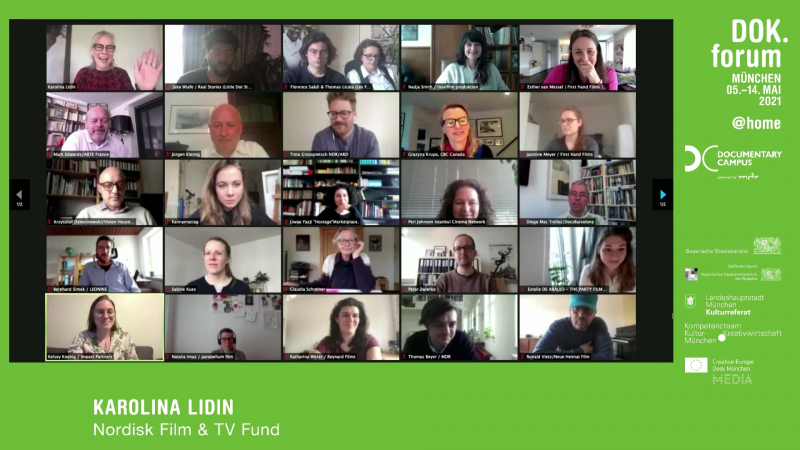 Through the Lockdown Looking Glass: Visions of new Documentary Horizons
Already Pre-Pandemic, with digital platforms and new financial opportunities on the rise, conventional financing strategies were being challenged – and thus distribution strategies as well. When the world came to a standstill, the necessity of radical readjustment and creative reinvention of how we work individually and as a global community could no longer be ignored. It was the nick of time to get out of our respective Rabbit Holes.
What have we learned, what kind of perspective have we gained, not just from readjusting and reinventing, but also from standing still and having a moment to take stock of what is important and what maybe not? Are we maybe now better equipped to navigate the entangled landscape of platforms, rights and audiences without leaving our values, visions and voices behind?
No filmmaker is an island, no distributor, exhibitor or spectator either – especially amidst these seismic shifts, reasserting ourselves and our ways of working together is more important than ever to ensure the height, depth & breadth of the documentary art form in a Post-Pandemic world.
In the unique, interactive setting of the Masters' Pitch, 9 new documentary projects heading into this transitioning market, will be presented to international commissioners and experts. Feedback is also sought from the audience, including producers, directors, distributors and representatives of major broadcasters. Our jury members will be in the spotlight as well to share their visions of the future potentials – and pitfalls – of this New Normal.
The event will be moderated by Karolina Lidin, Senior Advisor Documentary, Nordisk Film & TV Fund.
Programme
13:00 - 13:15
Welcome & Introduction
Welcome words by our curator and host of the day, Karolina Lidin, Senior Advisor Documentary, Nordisk Film & TV Fund.
13:20 - 13:30
Collective Power
Kick-off keynote presented by Simon Kilmurry, Executive Director, IDA, US
13:30-14:15
Pitching Block 1
Dancing on the Edge of a Volcano, Germany/Lebanon
Pitching Team: Cyril Aris & Katharina Weser
Hayflick Limit, Belgium
Pitching Team: Thomas Licata & Florence Saâdi
Brotherhood, Switzerland
Pitch Team: Hanka Maciag & Esther van Messel
14:15 - 14:30
My Lockdown Looking Glass: Pushing the Boundaries
Impulse Talk with Q&A by Mandy Chang, Commissioning Editor, BBC Storyville, UK
14:30 - 15:00
Coffee Break
15:00-15:15
Corona Creative - New Ways of Storytelling
Impulse Talk with Q&A by Thomas Beyer, Commissioning Editor, MDR, Germany
15:15-16:00
Pitching Block 2
School for Peace, Germany/Israel
Pitch Team: Guy Wasserman, Nir Dvortchin & Moritz Bundschuh
A Picture to Remember, Ukraine
Pitch Team: Olga Chernykh & Regina Maryanovska Davidzon
Silver`s Uprising, Israel
Pitch Team: Dan Shadur & Ido Mizrahy
16:00-16:15
Beyond Corona - Docu Topics in a Post-Covid World
Impulse Talk with Q&A by Volker Neuenhoff, Head of German Amazon Original Unscripted TV, Amazon Studios, Germany
16:45-17:30
Pitching Block 3
Big Oil vs. The Law, Germany
Pitch Team: Mette Reitzel & Nadja Smith
The Ultimate Joker, Poland
Pitch Team: Krzysztof Dzięciołowski & Agata Jujeczka
Bam, Bam: The Story of Sister Nancy, Canada
Pitch Team: Ngardy Conteh George & Alison Duke
17:30-17:45
How to Keep the Party Going?
Impulse Talk with Q&A by Estelle de Araujo, Clémence Lavigne and Samuel Blanc, The Party Film Sales, France
17:45-17:50
Closing Words & Thank Yous
Closing Words Karolina Lidin & Thank yous
17:50 - 18:30
Virtual After-Pitch Cocktail
Virtual After-Pitch Cocktail @DOK.bar: Join us in the Spacial Chat