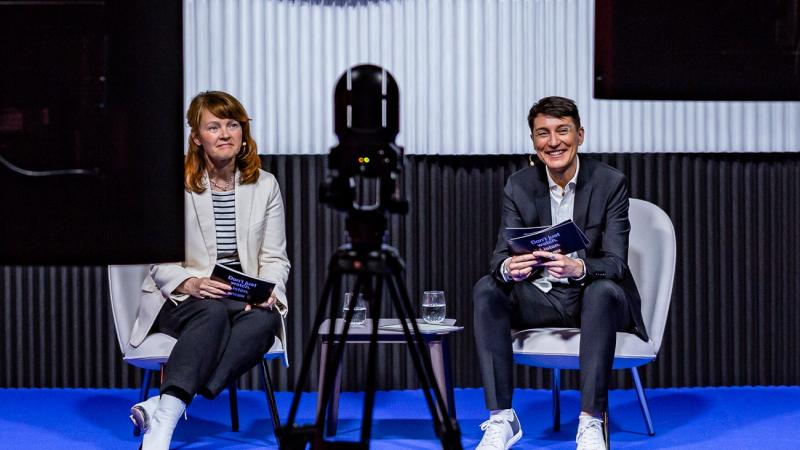 CPH:CONFERENCE is our unique 5-day industry event presented in partnership with CPH:DOX. Held this year Monday 26 to Friday 30 April, we RESET for the future together!
Visionary digital minister of Taiwan Audrey Tang, artist Ai Weiwei, fake news expert and Iranian blogger Hossein Derakhshan, founder of Fridays for Future Uganda Hilda Flavia Nakabuye, controversial economic commentator Grace Blakeley and multi-award winning producer Ted Hope were joined by over 70 forward thinkers and creative voices at CPH:CONFERENCE.
RESET! Industry professionals and international guests gathered for an intensive, fully online programme of interactive case studies, keynotes, workshops and discussions on what really drives the media industry and society at large right now. Together we took a snapshot of the world we live in, examined the bigger structures of democracy, economy, climate and representation and focused on the role that storytellers and artists can and must play in improving our post-pandemic world. Each day was dedicated to a different theme which are all interlinked, helping us to actively rethink and reset the inherent systems of the industry. We then completed the series with an action day dedicated to collaborative work and change initiatives for the better.
Monday 26th: REBUILD:DEMOCRACY
Democracy is under threat around the world, but people are fighting for their rights like never before. How can audiovisual storytelling help to reclaim the digital public sphere by challenging disinformation, fearlessly documenting injustices, and lifting up marginalized voices? Which tools are necessary for informative and politically engaged narratives in the post-truth era?
Tuesday 27th: REDISTRIBUTE:ECONOMY
COVID19 laid bare the unequal nature of the global economy. New economic models and narratives are needed to prioritize wellbeing and solidarity over profit. What role can storytellers play in improving or challenging financialization, platform capitalism and tech monopolies? How can audiovisual media democratize debates around the future of our economies and help alternatives become a reality?
Wednesday 28th: REPRESENTATION:POWER
Who has the power to speak up? With cultural and media industries failing to deliver on promises of diversity and inclusion, artist-activists are taking matters into their own hands, challenging conventional modes of financing, production, distribution and storytelling itself. How can they challenge discrimination along lines of race, ethnicity, class, gender, religion and disability?
Thursday 29th: REBELLION:CLIMATE
Raising awareness about environmental issues is no longer enough. Now is time for action and a shift in the storytelling of ecological stories. How are storytellers leading in the fight for a global Green New Deal? Can the calls for action be more effective and at a bigger scale? And, looking at our own industries, what action must be taken NOW to end ecologically unsustainable and unjust practices?
Friday 30th: RESILIENCE:CULTURE
New digital formats, modes of interaction and authorship have exploded as storyteller, creators, institutions and collectives build new worlds in the online space. At the same time, the economic precarity that existed long before the pandemic poses an even greater threat. What strategies should be embraced to ensure true resilience for the arts and cultural sectors in a post-pandemic world?
The conference was curated and presented by Documentary Campus and CPH:DOX. The programme was co-curated by The Catalysts.